If your loved one was a veteran you can apply for a flat granite or bronze marker issued by the Veteran's Administration. Please bring in a DD-214 (Discharge Papers) from any branch of the military and allow our caring staff to help complete the application. The applications must be typed or clearly printed and must be signed by the cemetery as well as the family member. Veteran markers are furnished by the Government for a qualified Veteran of the United States Armed Services. South-View will assist families with ordering a VA Granite or Bronze marker with proper documentation.
Required Document: DD Form 214, Certificate of Release or Discharge from Active Duty
If your loved one served and was honorably discharged from a branch of the military, you can call 1-800-697-6947 for assistance with obtaining a DD-214.

Flat Granite Marker and Flat Bronze Marker (without vase)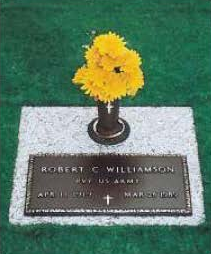 Flat Bronze Marker (with vase)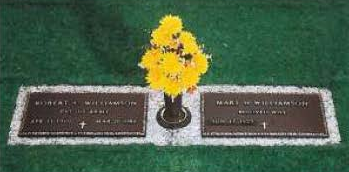 Companion Bronze Marker (with vase)
Please contact our office for more detailed information.